Prof. Dr.-Ing. Johannes Huber | 26. Juni 2017 | 10.00 Uhr | B04 L4.1.01
Kurzfassung
In bildungspolitischen Diskussionen wird oft ein Gegensatz zwischen theorie- und praxisorientierten Ausbildungsgängen konstruiert. Zum Beispiel werden die Unterschiede zwischen den Studiengängen an Fachhochschulen und Universitäten hiermit begründet. Dabei wird oftmals unterschwellig eine vermeintliche Praxisorientierung als für Wirtschaft und Gesellschaft von höherem Wert subsumiert. Im Vortrag wird jedoch anhand naturwissenschaftlicher und technischer Entwicklungen aufgezeigt, dass Theorie und Praxis zu keiner Zeit in irgendeiner Weise etwas Gegensätzliches darstellten, sondern alle entscheidenden Erfolge in der Technik, welche das menschliche Dasein maßgeblich veränderten, nur auf der Grundlage umfassender theoretischer Fundamente möglich waren. Für aktuelle technische Entwicklungen, die überwiegend als neue Algorithmen in Softwarelösungen (z.B. App´s)  stattfinden, gilt dies sogar noch in verstärktem Maße. Somit wird das Gegensatzpaar Theorie und Praxis als Feigenblatt bei Aversionen gegenüber oftmals nicht einfachen theoretischen Konzepten entlarvt.
Die These "Eine gute Theorie ist das Praktischste, was es gibt!", die vom Physiker Gustav R. Kirchhoff und auch von manch anderen namhaften Wissenschaftlern ähnlich formuliert wurde, wird insbesondere an der Entwicklung der modernen digitalen Informationstechnik ab der Mitte des 20. Jahrhunderts bestätigt, die zum einen bzgl. der Elektronik auf der Theorie der Festkörperphysik und zum anderen auf den Konzepten der mathematischen Informationstheorie beruht. Als aktuelles Beispiel werden die enormen Steigerungen der Datengeschwindigkeiten in der Mobilkommunikation mit Hilfe der Vielfach-Antennentechnik näher betrachtet, wo es mit Hilfe strikt mathematisch abgeleiteter Entzerrungsverfahren gelingt, viele Antennen ähnlich wie parallele Strippen in dicken Kabeln für parallele Übertragungswege nutzbar zu machen.
Schlussfolgerungen auf die Ausbildung des Nachwuchses in Technik und Naturwissen-schaften beschließen die Ausführungen.
Bio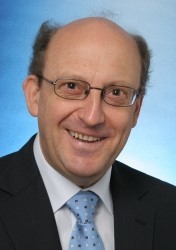 Johannes Huber studierte Elektrotechnik an der Technischen Universität München und erwarb 1977 das Diplom. Er wurde 1982 zur Dr.-Ing. promoviert und erhielt 1991 den Titel Dr.-Ing. habil. mit einer Monographie zur Trelliscodierung. Von 1991 bis März 2017 war er Inhaber des Lehrstuhls für Informationsübertragung an der Friedrich-Alexander-Universität Erlangen-Nürnberg. Seit April 2017 ist er Prof. em. am Institute for Digital Communications (IDC) dieser Universität. Von 2007 bis 2009 war er Dekan der Technischen Fakultät.
In der Forschung ist Johannes Huber auf den Gebieten digitale Übertragung, Informations- und Codierungstheorie, codierte Modulation, Entzerrungs- und Detektionsverfahren, MIMO-Übertragungsverfahren, DSL etc. aktiv. Er hat zwei Monographien verfasst und ist Autor und Co-Autor von ca. 340 wissenschaftlichen Veröffentlichungen. In den Jahren 1988, 2000 und 2006 wurden Publikationen, die er verfasst bzw. mit verfasst hat, mit dem Preis der deutschen informationstechnischen Gesellschaft ausgezeichnet. 2004 erhielt er den Innovationspreis der Vodafone-Stiftung für Mobilfunk und in den Jahren 2003 und 2010 wurde ihm der EEEfCOM Innovationspreis verliehen.
Prof. Huber ist Fellow of the IEEE, Corresponding Fellow of the Royal Society of Edinburgh und ordentliches Mitglied der Bayerischen Akademie der Wissen-schaften (BAdW). An der BAdW leitet er die Kommission "Forum Technologie" und ist stellvertretender Sprecher der Sektion III: Naturwissenschaften, Mathematik, Technikwissenschaften
Inzwischen sind 11 seiner ehemaligen Doktoranden selbst Professoren an namhaften Universitäten und Hochschulen.