Gheorghita Ghinea | Brunel University, UK | May 10, 2016 | 19:00 | Seeparkhotel (co-located with mmsys2016.itec.aau.at)
Abstract: Traditionally, multimedia applications have primarily engaged two of the human senses ? the audio and the visual ? out of the five possible. With recent advances in computational technology, it is now possible to talk of applications that engage the other three senses, as well: tactile, olfaction, and gustatory. This integration leads to a paradigm shift away from the old multimedia towards the new mulsemedia : multiple sensorial media. In his talk, Dr. Ghinea is going to focus on the issue of the perceptual experience of mulsemedia and how research in the area has opened new and sometimes challenging opportunities for mulsemedia applications.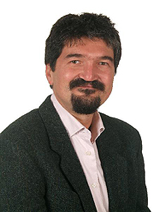 Bio: Dr. Gheorghita Ghinea is a Reader in the School of Information Systems and Computing at Brunel University, United Kingdom. He received the B.Sc. and B.Sc. (Hons) degrees in Computer Science and Mathematics, in 1993 and 1994, respectively, and the M.Sc. degree in Computer Science, in 1996, from the University of the Witwatersrand, Johannesburg, South Africa; he then received the Ph.D. degree in Computer Science from the University of Reading, United Kingdom, in 2000. His research activities lie at the confluence of Computer Science, Media and Psychology. In particular, his work focuses on the area of perceptual multimedia quality and building end-to-end communication systems incorporating user perceptual requirement. He has over 250 publications in leading international conferences and journals; Dr. Ghinea has co-edited two books on Digital Multimedia Perception and Design, and Multiple Sensorial Media Advance and Applications. He leads a team of 8 researchers and consults regularly to both public and private organisations and bodies in his areas of research expertise.